【CP and Communist Youth League activities】
Tiancai The company to carry out the struggle the most beautiful youth theme activities
A typical, and give full play to the exemplary role in youth staff is an effective way to do the work of young workers. To lead the youth to emulate, innovation and struggle, at work and in life to be advanced, to the example, to encourage young employees to learn advanced, help juniors, proactive, unity, and inspire more young employees and youth groups in the reform and development of green spring show, day material of League 7 on the morning of 12 to carry out the "struggle the most beautiful youth themed activities, and excellent youth story sharing. At the same time, 15 young workers on behalf of the company's two branch participated in this event.
This is the "54" Youth Forum, and a young Day material of League deeds to carry out sharing activities. This event, with the group of "good story" based on the development of young workers, two branch secretary Sun Qian and Li Cuizhu as the representative of the youth around learning, innovation and efficiency, struggle dedication etc., deeds of outstanding young Wang Jian and young groups made of strip were described by mill team simple language and concrete examples, and the youth representatives to share their insights on life, communication and exchange of ideas.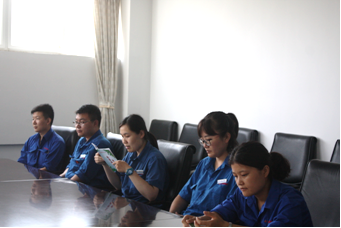 Ordinary pregnant touched, example cohesion power. The young workers' representatives have said that representatives of outstanding young story into his own heart, rewarding, to learn the next example, dedication, innovation, and strive to create a first-class performance, by striving for dreams, no regrets, worthy youth. Everyone agreed that the struggle on the road, there are bitter sweet, bitter than sweet, no matter what job, we must adhere to the ideals and beliefs, down-to-earth to do a good job, face life with positive attitude, with the dedication of the mind and the courage to take responsibility, engaged in the development, the development of poverty relief losses in the war, to realize the value of life in the struggle.